For many years, we at FACT Consulting have been supporting companies in their strategy work, advising them on the subject of leadership and supporting them in process design. Excellent companies thus manage to implement clear strategic priorities through consistently acting executives with committed employees in clear processes.
How we can profit from ESG
Now, with ESG (Environmental Social Governance) and EU taxonomy, for the first time, a "mandatory" understanding of sustainability, gradually cast in rules, is coming to companies in Europe. Monetary profit should no longer be the sole purpose of business and take precedence over ESG aspects, but go hand in hand with them.
In order to meet the increasing environmental awareness of our society, sustainability becomes "measurable" and, in the best case, comparable. For this purpose, criteria are analyzed on an industry-specific basis and subsequently made assessable. Independent verification of these sustainability criteria ensures compliance, making it increasingly difficult for companies to "cheat their way through" such as greenwashing.
Digitization, sustainability and excellence go hand in hand!
Particularly challenging is the reporting on the comprehensively understood sustainability criteria, which, in addition to the environment, social issues and human rights, also relate to corporate management and the corresponding system of rules (governance). In the coming years, more and more companies will be required by the current rules to include in their reporting not only up-to-date data on their products, but also on the entire value chain and the impact on stakeholders. The chart below illustrates the ever-increasing demands placed on companies. The already published reporting requirements seem to be feasible only by means of digitization.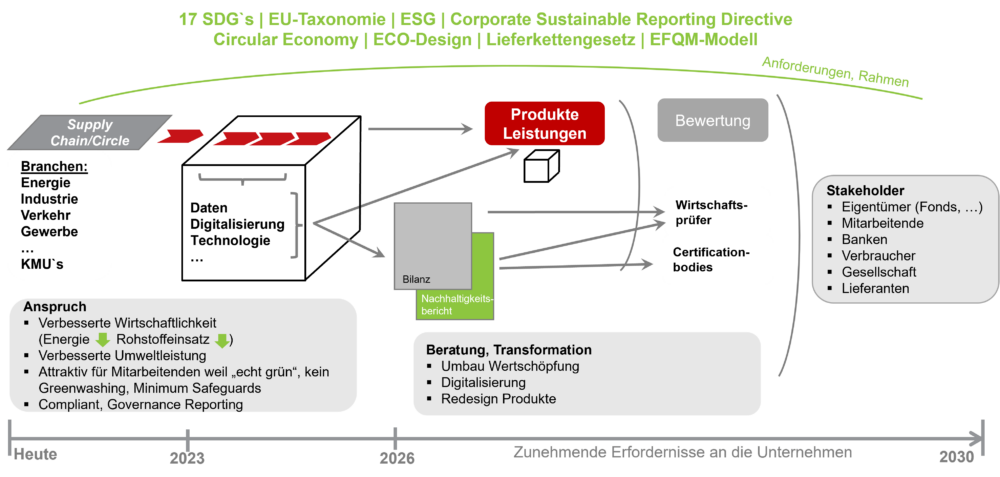 It is precisely in the combination of these topics that the strength of our consulting work lies. We don't just interpret the requirements through the lens of the auditor or controller, but incorporate our extensive expertise in engineering, technology and digitalization. Thanks to management consulting and the associated optimizations, we help to turn challenges relating to comprehensive sustainability into opportunities. We support you with targeted consulting impulses or even more extensive projects, including organizational development, of course.
If your requirements are very technology-heavy, you can count on the experience and implementation skills of the colleagues at our group companies – they are very familiar with all the challenges in the areas of technology, engineering, digitization, research and service.
The spirit is willing, but the budget is weak?
Even for this case, we have made provisions, we are also happy to support you with the financing of your optimization project. Through appropriate bank partnerships, we are able to provide the required optimization and improvement services via rental models. The effect: under the right conditions, the "optimization profit" is higher than the rent agreed for three years – so optimization makes a positive contribution to the company's earnings from day one.
Contact us – we will be happy to map your specific task in a non-binding offer.